Teacher Appreciation Week may feel like months away, but the fact is it's only about 8 weeks away! Every school does teacher appreciation week, or day, a little different, but by and large, it is celebrated Monday, May 6th to Friday, May 10th.  Teachers are truly an amazing group of individuals and it's a great time to pause, reflect and honor these great men and women. We've taken some time to come up with 6 unique teacher gifts that your teacher is sure to love!
Cozy Sweatshirt
Often time's school will have a jean Friday where teachers can dress more casually. What better way to say happy teacher appreciation week than a cozy top to wear on Fridays?! This adorable LOVE sweatshirt made out of school supplies would be a great jean Friday top for any teacher. The same company also has the sweatshirt in a t-shirt style. So if you live in a warm weather type climate this would be a great option for you.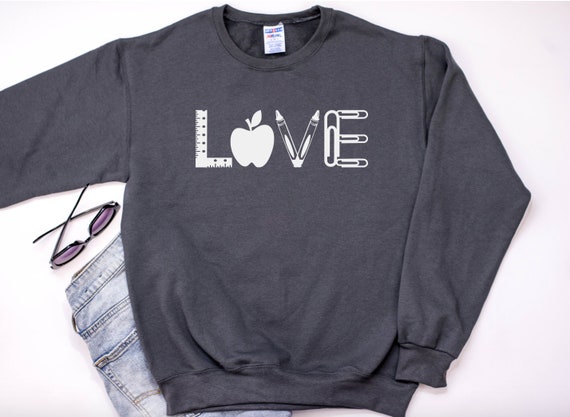 Water Bottle
Teachers, like students, are tied to a pretty strict schedule. So having a water bottle at your fingertips is a great option. Hydroflask makes some brightly colored sealable water bottles, but if customization is more your speed, look into customizing a sealable water bottle at Printaroo. The options are endless in terms of your design, which allows for a very heartfelt gift.
Lip balm
Any change in the seasons will leave your lips feeling chapped and neglected. Add in talking all day and your poor lips are probably screaming for some balm at the end of the day. Purchasing a higher end lip balm like,  Glossier, or an all natural lip balm like Supergoop, will surely bring a smile to any teachers face on teacher appreciation week. Something about gifting an ordinary everyday item that you might not purchase yourself makes this idea extra great.

Essential Oil Roller Bag
Let's be honest. Being stuck in a room of 25+ plus kids does not exactly sound like a zen experience.  So bring the zen this teacher appreciation week! If you are into essential oils this would be a great gift for you. Purchase an essential oil roller bag case, like the one from Honey High Five, and then create your favorite relaxation roller balls to fill inside the bag. We just know whether the teacher uses oils or not, they will be grateful for some relaxation in their life.
Gift card
All teachers would love a gift card to grab a coffee and bagel on the way into work or to pick up dinner after a long night of parent-teacher conferences. Whatever the amount this gift will be surely appreciated!
Big or small, whatever the gift, the teacher in your life will just be happy to know you thought of them and appreciate them during teacher appreciation week.  Be sure to share some of your favorite gifts to give teachers in the comments section below!