Father's Day is just around the corner. It is Sunday, June 16th to be exact. While we know, if you would ask any father what they would like for father's day, they would likely say they want some quality time with their favorite people. We couldn't agree more; however, sometimes it's nice to get that special father in your life a little something to let them know you're thinking of them. We've rounded up six custom father's day shirts that you can easily gift dad or wear to a family brunch.
Dad That Loves The Grill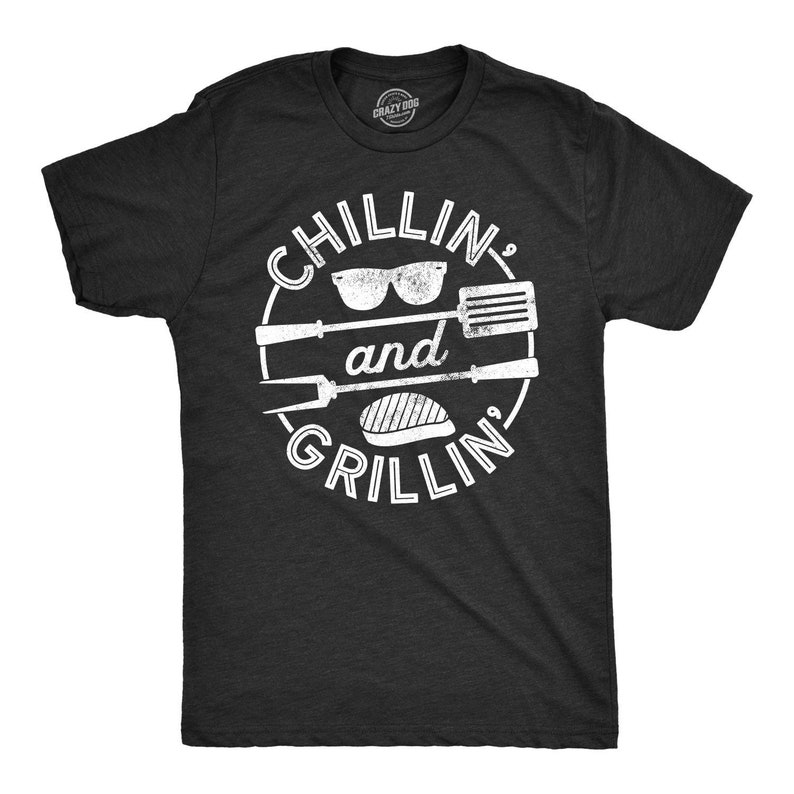 It seems as though the words father and grill go hand in hand. That is why we love this Chillin' and Grillin' shirt by Crazy Dog Tshirts. This custom father's day shirt is perfect for a relaxing afternoon of outdoor fun.
https://www.etsy.com/listing/610925214/bbq-shirt-barbecue-dad-shirt-cooking-t?ga_order=most_relevant&ga_search_type=all&ga_view_type=gallery&ga_search_query=fathers+day+shirt&ref=sr_gallery-1-14
The Boy Dad
Are you celebrating a dad with all boys? These father/son shirts from KaAns Design on Etsy are perfect. Not only is this custom father's day shirt cute as a gift for dad, but taking pictures of dad and his sons in this shirt would make a sweet grandfather gift as well.
https://www.etsy.com/listing/633890376/father-son-unisex-adult-clothing-boy?gpla=1&gao=1&&utm_source=google&utm_medium=cpc&utm_campaign=shopping_us_ts1-c-clothing-unisex_adult_clothing-tops_and_tees-tshirts&utm_custom1=0eb435c8-a073-4af8-aeca-798797ff9051&utm_content=go_919451273_48696816911_218699675707_aud-459688891595:pla-299872739640_c__633890376&gclid=CjwKCAjwndvlBRANEiwABrR32GceJj5zGc0YhC3tXJR0Z3KO2X5Pn9WQPK7Hv4DKmbU7PSLft4BiXBoCHA0QAvD_BwE
The Girl Dad
We can't forget about the dad with all girls. This Dad with Girls custom father's day shirt from Amazon is perfect. You can select from a variety of colors, and it's shipped via Amazon prime making ordering and receiving a breeze.
https://www.amazon.com/Dad-Girls-T-Shirt-Daddy-girls/dp/B07NP9SMYY?customId=B0752XJYNL&th=1
Fathers Day Shirts for Grandpa
Are you celebrating grandpa as well this Father's Day? We have found the cutest custom father's day shirt for him. Gifts for you offers personalized t-shirts where you can select a character and have names printed on the shirt. You're able to put all of Grandpa's favorites in one shirt. We know this is a shirt that grandpa will wear with pride.
https://www.giftsforyounow.com/itemlp.aspx?itemid=310206X&utm_source=google&utm_medium=feed&gclid=CjwKCAjwndvlBRANEiwABrR32KBPCFDNzA7DZ7Y7lqF_QRHDVaSpmz4CCqJNu8DYDb2tTctr1W622hoCtnUQAvD_BwE
Non-T-Shirt Dad
Maybe dad isn't a t-shirt wearing guy? We'll these Rad Dad joggers will be perfect then. These joggers by Keep Life Simple Design are perfect for an afternoon nap for running his some of favorites around town to soccer practice.
https://www.etsy.com/listing/663225391/rad-dad-sweatsrad-dad-pajamasdad-pajama?ga_order=most_relevant&ga_search_type=all&ga_view_type=gallery&ga_search_query=dad+sweats&ref=sr_gallery-1-2&pro=1
Creative Gift for Dad
Are you the creative type? Or perhaps you haven't yet found the perfect custom father's day shirt. Consider opening a shop on Printaroo and designing your own.  You can either print out a bunch of shirts/apparel for your family and friends or direct them to your Printaroo site to order their own.
So there you have it, six custom father's day shirts for all the different dads in your life.  We know it truly is the thought that counts, but dad will surely appreciate a shirt from his favorite people.